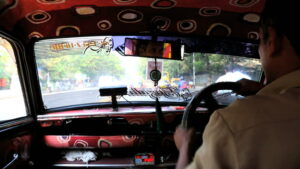 I have been to India often, in fact I lived there for three years and through my business I still travel back regularly so I am not totally unfamiliar with the country and its ways. Many countries are vast and varied, but I have not been to one that has as many stories to tell as India. I think that even if I lived there for the rest of my life, I could still not travel everywhere and be exposed to all the diversity that makes up this unique country. I have just come back from a fast two week trip starting in the North East, travelling to the South and ending in the bustling metropolis of the large West Indian city of Mumbai. This story is but a glimpse of one of the stories of India.
We left London and had a long flight to Kolkata via the opulent Dubai and after a couple of hours wait we boarded a small Indigo flight and flew into Ranchi…a small city that used to be part of the State of Bihar but is now the capital of the newish state of Jharkhand. I had been to Ranchi briefly a couple of years ago and saw not much more than the inside of the Radisson Blu, the only five star hotel in the heart of the city. This time I was there for a little longer and had some time to take in the cities sights. For the casual visitor, first impression is a city that looks more like an overgrown village. No signs of the opulence or Westernisation that is prevalent and growing through other parts of India. Ranchi at first glance looked laid-back, poor and fairly basic but was reasonably clean and had some obviously well cared for public open spaces.
We were there to meet a high level government official so were put up in the VIP guest house for the night. We pulled into this well cared for sweeping driveway in a cantonment area and checked in. Our request for the wireless password was met with blank stares which really summed up our stay. The internet was not for everyone in this city. Our room was old and a bit tired, basic but clean, I couldn't put my finger on why, but I don't think that many women stay in that particular guest house. Everyone was very polite and extremely respectful but the room and hallways had a certain maleness about them that is hard to explain. There was no dining room or restaurant, dinner was ordered over the phone, not from a menu but from a suggestion of what was available to cook on demand. What arrived was hands down some of the simplest and tastiest vegetarian food I have ever eaten, delivered to us in person by the eager cook.
We awoke in the morning to a statewide Bandh (political strike) this meant that our 10am meeting was deferred indefinitely. No taxis, no transport and marches through the street making movement through the city for us visitors potentially dangerous. In my waiting I learnt a little about the local politics and the local tribal or Adivasi people of the area. Like many tribal people the world over the Adivasi are largely disadvantaged in their own land and struggling to integrate into the increasingly modernising India. A fear of, and lack of education compounds this issue and has given rise to the Naxalites, a radical far left Maoist movement, well known in the area for looting, kidnappings and anti establishment guerrillas, fighting for the rights of lower caste tribals.
As our meeting was getting delayed, it was looking less and less likely that we were going to be able to make it to our next destination the following day in Durgapur, about 6 1/2 hours drive from Ranchi. Many times we were told that it would be unsafe to travel after dark, the Naxalites control the tribal interiors once the sun went down. I heard the expression Naxalites so many times that day that I could not wait to get online to Google these people. Google was going to have to wait though, our meeting finally happened at about 2pm (another whole story in itself) and by 4pm, Bandh over we were bundled into a Taxi and headed through the interiors of the state and Naxalite country towards West Bengal. "But is it safe I asked?" "of course you will be fine" came the answer, I didn't like to point out that the same people who told me in the morning that travel for a foreigner through those parts was at best dodgy to now being absolutely fine was a bit of a concern. But anyhow on the road we were, travelling through tribal/ rural India, the occasional road signs all being in Hindi, I had no idea where I was. I have been to rural India on more than one occasion, but this was even more so, rough roads, tiny tribal villages and rough looking towns. As I kept one eye out for bandit Naxalites (not really sure what they would look like) I settled into the drive, the driver chewing on his paan and chatting in a Northern Hindi dialect to my friend. As I relaxed I listened to the conversation, picking up a word or a phrase here and there and trying to piece together a very interesting story.
The story started about 15 yrs ago. The driver had a tiny battered old car and eeked out a living as an occasional taxi driver to support his wife and young family. One day he picked up a smart looking man from the airport who had flown in from New Delhi, the man told him he was the editor of the second largest newspaper in India. These words had no meaning to the driver but he was curious and the man explained best he could what an editor was. The man was also moving to the area and had come to set up the home for his family, he needed a driver and offered our driver his first ever permanent job, driving him and his family around.
Everyday the driver would take the editors daughters to a private English medium school and pick them up again later in the day. The editor's daughters were confident, smart and getting well educated. The drivers daughters went to a local school and were destined to be the next generation of domestic help if they were lucky enough to get a job. The driver started thinking, what if my daughters got a chance to go to a good school, what would they be like? The driver mentioned this to his employer who to shorten a long story did not hesitate to arrange and pay for admissions for the drivers daughters. Over time that driver stayed with the editor for nine years, moving to three other cities and making enough money to send back to give a good education to his two daughters and his son.
The driver now has a larger better car and works for a reputable local taxi company. He has one daughter that has just finished a degree in hotel management and another daughter that is about to finish a degree in Engineering and has been offered a job in Glasgow. Both are confident and fluent in English, a language he has never understood. He is not sure where Glasgow is, but instinctively knows its a good opportunity for his daughter. He wanted my friend to talk to his daughter on the phone, they did, she sounded smart well educated and keen to get a good job. The driver believes in life chances, maybe we would be able to help his daughter, maybe not, but we were in his car for a reason, our original driver didn't turn up and he was called at the last minute, he wasn't going to let the chance go by…he knew that lesson only too well.
We eventually got over the border into West Bengal and on to Durgapur safely, not a sign of the elusive Naxalites, the driver assuring us they were not active in these parts anyway.
What are life's chances? those moments that we all let go by, that we do not always see. Where would our lives be if we grabbed them at every opportunity, didn't look back ???