1. Cat Cafe; Versova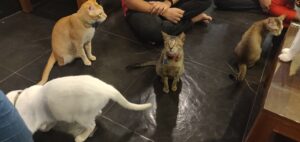 In the heart of trendy seaside Versova where Bollywood artists and the advertising, creative crowd hang out, is home to India's first cat cafe.
Blind cats, three legged cats, kittens and big cats, they are all here and all look happy and well fed.
Part creative agency, part cafe, part feline NGO and part event space, this cafe started in 2010 and is now a thriving Cat Cafe that put their rescue felines first. All the cats are rescue cats, nursed to health and then put up for adoption
The space is super clean and well run and has around 40 cats at any one time. You can choose to eat in the leafy front part of the cafe or choose to lounge about with the cats in a secure space near the back, once there you will not want to leave.
The cat cafe is free to visit (events are chargeable), has free wifi and you can stay as long as you like. They have a range of food and drinks available for sale and there is plently of information if you want to donate or adopt. Look out for their events , yoga with cats and comedy nights amoung others.
Check out their website https://www.catcafestudio.com for more information and directions.
2. Matunga East Market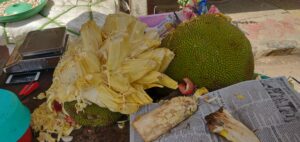 Matunga East market is my go-to place when I am on the lookout for anything South Indian. From food to groceries to clothes, their goods come directly from the Southern States of Tamil Nadu, Kerala & Kanataka.
Matunga is the place to get the best dosa's and other traditional fare like banana-leaf curries, vada's, idlis, panipayams and spicy sambhar. Amoungst the miriad of vegetable sellers are small shops specialising in regional spices and grains.
Pick up fresh banana chips, red rice, black rice, pickles coconut as well of 100's of the Souths famous snacks and specialities.
I always go in the summer to get my fix of seasonal jackfruit and cooling ice apple (tadgola) and to pick up a fresh summer lungi (sarong) to wear. Its hot, its crowded but a unique little part of the south in Mumbai that you will not find anywhere else in the city.
Put Lakhamsi Napoo Rd in your Google maps, or catch a Taxi or Local train to Matunga East Station.
3. Elephanta Island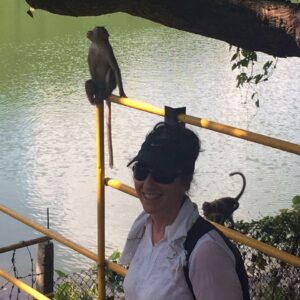 Elephanta Island is located in the Bombay harbour and takes approx one hour on one of the numerous ferries that cross the bay from The Gateway of India.
Buy your tickets from the box office, price is approx Rs150 return per person on the slower passenger ferries. Or if you prefer you can get a private speedboat for around 12k for up to 8 people.
Once you reach the jetty it is a short walk to the market where you can pick up some local arts and crafts, much cheaper than in Colaba. After a short but steep hike through the market you can turn right for a short hike up to the lookout point or turn left for a longer but more leisurely walk past the damn and through the local village.
Watch out for the monkeys, they are used to tourists, fun to watch but are seasoned and clever thieves. Check timings before you go, Elephanta is closed in the Monsoon season or when the sea is rough. Don't miss the last ferry back to Bombay.
To enquire about private speedboat hire or to experience a simple homemade meal (lunch) in a village house on the island contact me [email protected]
4. Dhobi Ghat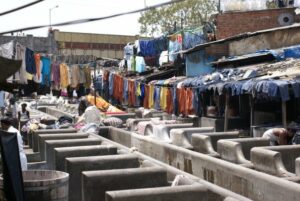 Dhobi Ghat is the famous open air laundromat in Mahalaxmi constucted in 1890. The dhobis (washers) wash clothes and other laundry from all over Mumbai.
At first sight it seems mad and chaotic but after a while you realise that their simple code system is amazingly efficient and has an almost zero error record making the ghats one of the most popular choices for laundry.
This is a labor-intensive process, of washing, sorting and ironing that has not really changed in the 130 yrs the place has been in existance. They have guided tours by proud residents who take you through the process and give you a peek at their unique way of life.
The best times to visit is early mornings or early afternoon. The guides, many who are now well educated and can speak a variety of languages are always very eager to share little anecdotes from their trade with curious travelers.
Dhobi Ghat is located next to Mahalaxmi Station. Get there via taxi or local train.
5. Local Trains – An Experience!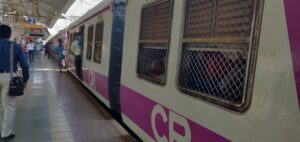 The local trains in Mumbai carry approx 7.5 million Mumbaikers to and from work every day. Rush hours are not for the faint hearted and if you decide to catch one to see a bit of Mumbai I highly recommend only off-peak or weekends.
The trains are super cheap and get you long distances within the city much faster than any car or taxi can. As this form of transport is not popular with the upwardly mobile, it's a great way to see the real heartbeat of the city. It's an adventure on its own and you can buy almost anything on board from the local sellers who travel up and down the lines everyday from snacks through to vegetables and trinkets.
Most people are friendly and will try to be helpful if you get lost or are not sure what station to get off at. You will hear languages from all over India spoken and see a huge cross section of people going about their business.
The main lines are the Central Line that starts from Chhatrapati Shivaji Maharaj terminus ( formely Victoria terminus) in Fort Mumbai. CST station is a Heritage building and well worth the visit on its own. This line is the older of the two lines with older trains that take you through the Eastern and central side of the city.
The Western line starts from Chruchgate station, which is in the heart of SoBo (South Bombay) and has easy access to Marine Parade, Wankabe stadium and Colaba. The trains on this line tend to be newer and faster and service the Western side of Mumbai.
Make sure you have a ticket before you board. There are first and second class carriages as well as women only carriages ( highly recomended for single women travellers). Dont expect the doors to ever close, or for people to wait for you to get off before they get on, go with the flow and enjoy.
But it's a great way to see the greater Mumbai area. Get off at Bandra West for the upscale restaurants and the hipster vibe along with the Bollywood who's who; or travel on to Borivali to visit the Sanjay Ghandhi National Park. Wherever you get off its sure to be an adventure.
Author: Nicola Fenton is a Kiwi who has been living in Mumbai on and off for the last 10 yrs.
Contact: [email protected]
Instagram @NicsGoingGlobal